Intro
TelAir

Precision air conditioning unit for indoor installation

TelAir units are designed for installation in telecommunication containers and equipment rooms. As they are installed indoors, noise is kept to a minimum and the units are protected against environmental influences and vandalism.
Solutions for TelAir units
Shelter cooling

Small Data Centers

Modular Data Centers

Direct Free Cooling

Equipment rooms

For use in telecommunications, infrastructure, facilities, broadcasting
Animation
Benefits
Benefits
Innovative technology and high-quality components for low energy consumption

Low refrigerant quantity (less than 10 tons CO2 equivalent)

No annual leak test required in accordance with F-gas regulation*

*due to low refrigerant quantity and hermetically sealed refrigerant circuit (standard for EC compressor)

Suitable for residential areas due to low noise emissions

Plug and play and therefore immediately ready for connection and use

Indoor installation keeps units protected against environmental influences and vandalism

Connectivity: Monitoring and remote access available via a web interface

Backup operation (Free Cooling and backup cooling) on failure of the main power supply
Technical Data
Cooling capacity total (kW)

4 - 16

Sizes

3

Air conduction

Upflow, Downflow, Displacement

Refrigerant

R410A (GWP: 2,088)

R407C (GWP: 1,774)

R134a (GWP: 1,430)
Flexibility thanks to variable air conduction
The individual models of the TelAir series are available as Upflow, Downflow and Displacement versions. In the Displacement model, the airflow can be directed horizontally or vertically entirely individually as required via adjustable fins, to ensure optimum operation of your servers.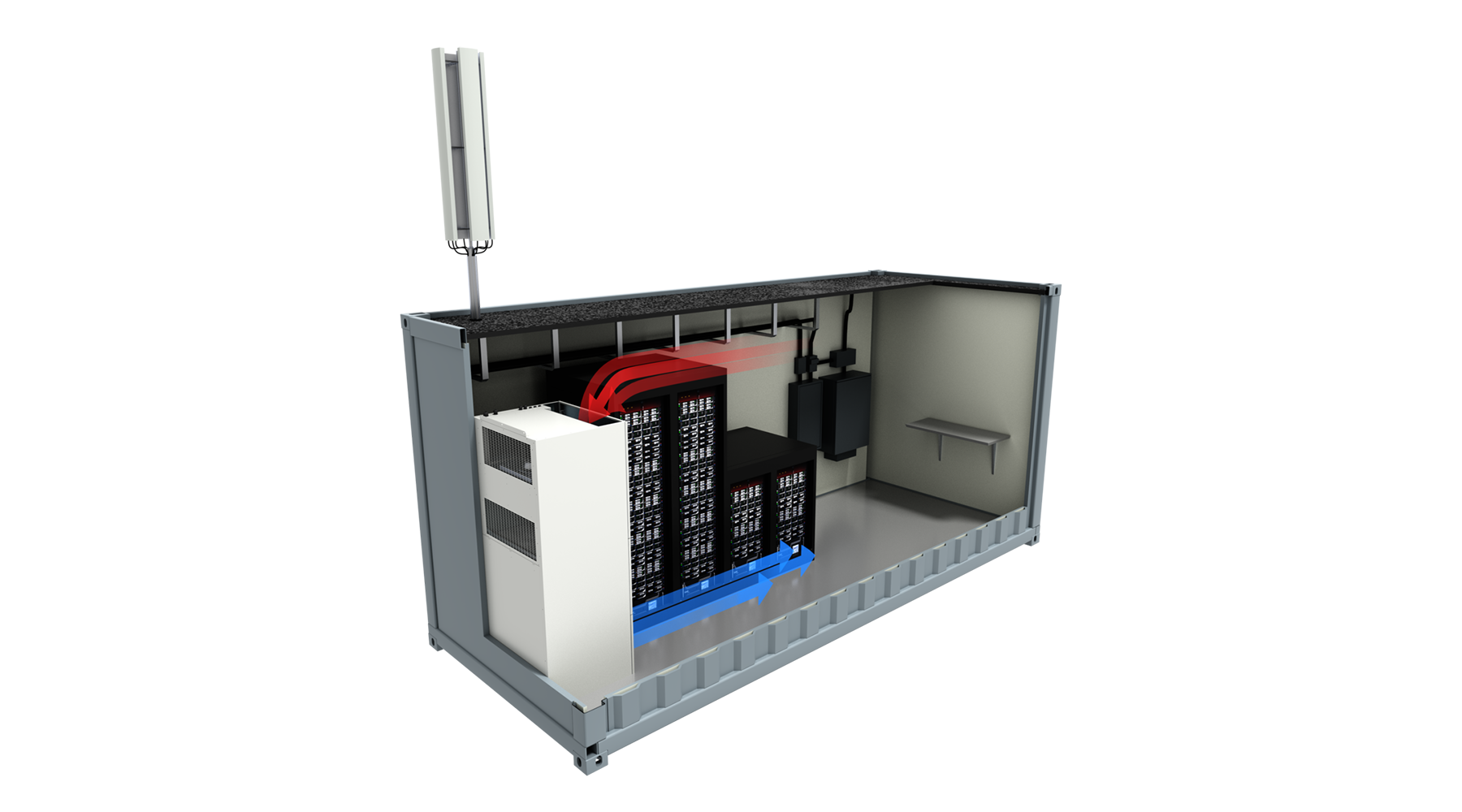 Features
Features
Factory tested, filled with refrigerant and ready for operation from the very first day

Downflow, upflow and displacement principle

Condensation pressure control

Outside air conditions: –20/+50 °C winter/summer

Automatic restart after power failure

Refrigerant R407C

Filter monitor and airflow alarm

Inside and outside temperature sensors

G4 zigzag filter

Condenser with microchannel technology
Controller
Control and monitoring
The C2020 consists of a controller and an optional operator terminal. The controller controls all the functions of the TelAir 2 unit. The operator terminal, consisting of a keypad and LCD, displays the most important operating states and alerts.
Sequencing
The C2020 enables up to ten units to be configured in a single air conditioning system. If an individual unit drops out or the heat load rises, the standby unit is switched in for additional support
Night mode
Time-controlled limitation of the condenser and evaporator fan speed for quiet operation
Energy-saving mode
Monitoring and alarm relaying
Via BMS systems
Nine potential free contacts are available: Alarms can be assigned a high or low priority
Via GSM modem
Simple configuration and software updates
Central configuration of units from a laptop
Hardware key for uploading and downloading software without a laptop
Downloads
STULZ Services