Intro
STULZ Explorer

Cooling for mission critical systems

STULZ has added to its chiller range with the liquid-cooled EXPLORER WSW. With the state-of-the-art design of the water-cooled chiller, featuring an electronic expansion valve, microprocessor control and infinitely adjustable power control, STULZ has once again demonstrated its expertise in liquid cooling systems.
Solutions for STULZ Explorer WSW
Data Centers

Industrial Process Cooling

Facilities such as hotels, office buildings, shopping malls, hospitals etc.
Technical Data
Cooling capacity total (kW)

230 - 1,530

Sizes

16

Refrigerants

R134a (GWP: 1,430)

R513 (GWP: 573)
Benefits
Benefits
Compact design

The Explorer offers maximum cooling capacity with a minimal footprint.

Reliability

High-quality components with easy access for maintenance purposes

Innovative control

STULZ's own control system with 7" touch display enables the STULZ Explorer to be perfectly integrated in existing systems.

Standardized components

By using components that are commonly found on the market, rapid availability of spare parts is guaranteed.

End-of-line test

An end-of-line test and factory parameter setting ensures easy commissioning and cuts installation costs.

Sustainability

The direct evaporator minimizes refrigerant quantities and so helps conserve the environment.

ERP compliance

This product meets the efficiency values according to ErP 2018
Features
Explorer with Screw compressors
Cooling capacity from approx. 230 to 1,530 kW

Refrigerant R134a

Constant-speed screws combined with dry-expanding evaporators

Single or dual circuit chiller versions

16 sizes

Available in standard and quiet design variants
Features
Generously proportioned switch gear cabinet

In-cabinet socket for easy service access

Easy installation and machine connection thanks to Victaulic connectors

Electronic expansion valve as standard, controlled by the STULZ C2020

Use of pipe bending machines to avoid single points of failure (SPOF)
Controller
Downloads
ErP
Efficiency challenging the future: ErP 2018 ready
The European Regulation 5539/16. known as ErP 2018, sets the new SEPR parameters for assessing the energy efficiency of chillers. The entire Explorer range complies with the limits required by ErP 2018.
E.E.R.: Energy Efficiency Ratio
Chiller efficiency at a certain condition.
E.S.E.E.R.: European Seasonal Energy Efficiency Ratio
Seasonal efficiency of a chiller for comfort: ambient air from 25 to 35°C
S.E.P.R.: Seasonal Energy Performance Ratio
Evaluates the load and temperature variations during the year,
relative to the chiller's electricity consumption.
Parameters for high-temperature process cooling chillers (reg. 5539/16):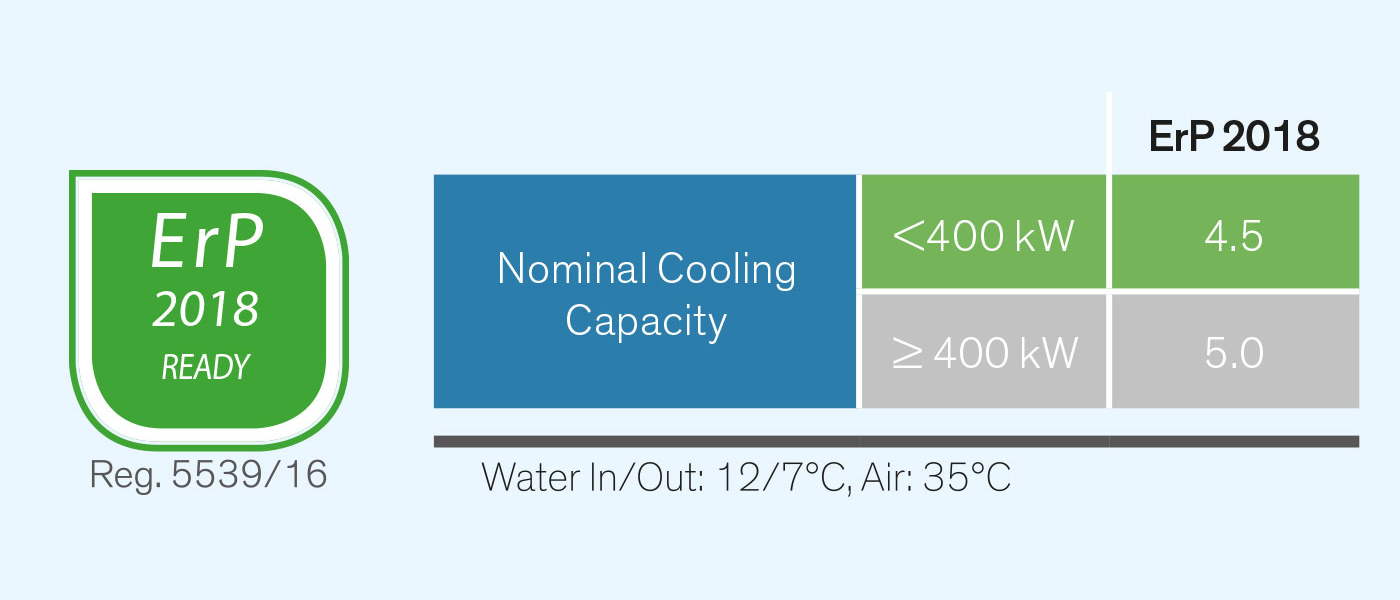 Animation
STULZ Services