Intro
STULZ Explorer Range

Cooling for mission critical systems

The STULZ Explorer line is a series of chillers suitable for numerous areas of application. It allows STULZ to offer a budget-optimized, state-of-the-art portfolio of chillers with the high flexibility it takes to meet a wide range of customer requirements.
Applications for the STULZ Explorer aircooled range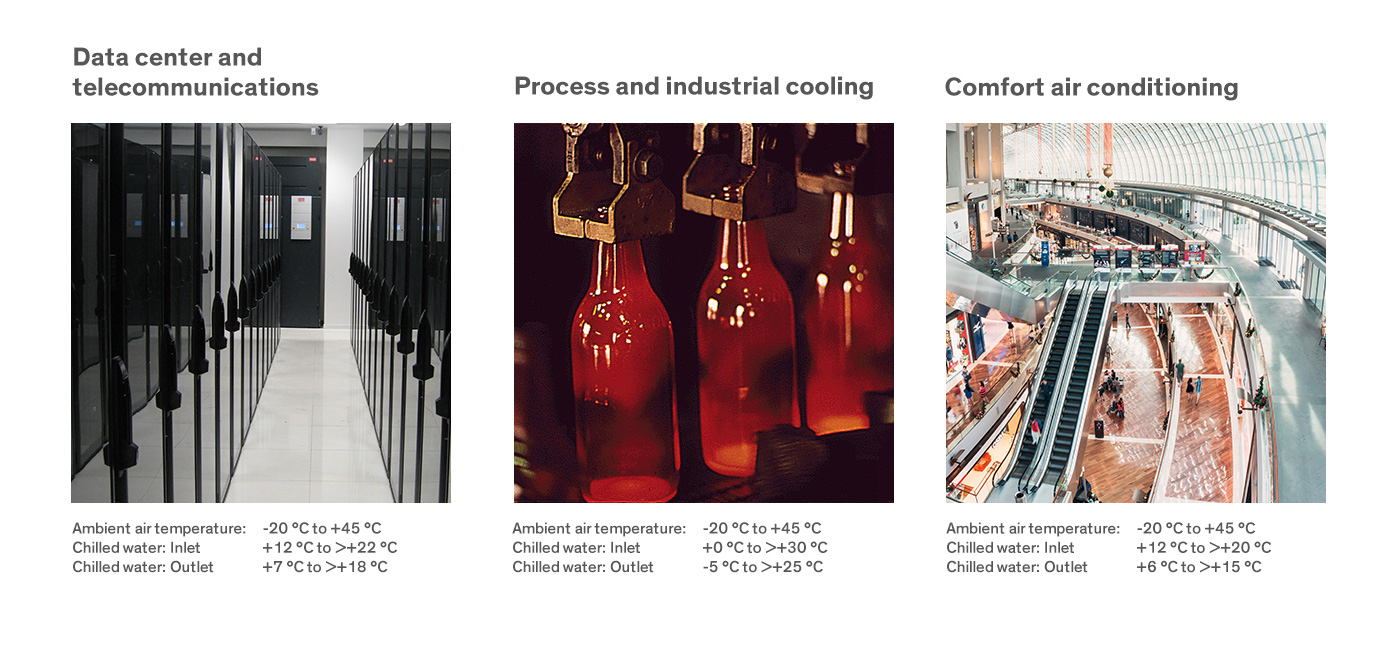 CLIMATE.CUSTOMIZED. You have the challenge, we have the solution

Characteristics at a glance
WPAmini

WPA
WSA
Cooling capacity (kW)
80 - 160
160 - 565
370 - 1,200
Refrigerant

R410a

(GWP: 2,088)

R410a

(GWP: 2,088)

R134a (GWP: 1,430)

R513a (GWP: 573)

Compressor
Scroll
Scroll
Screw
Cooling circuits
2
2
2
Level (%)
25 - 100
17/25 - 100
12,5 - 100
Free Cooling
optional
optional
optional
Low Noise
optional
optional
optional
Brochure
Download
Download
Download
Product information
WPAmini
WPA
WSA
Benefits
Benefits
Large microchannel condensers for improved heat transfer, minimized air-side pressure drops, weight reduction and lower refrigerant quantities

Redundancy by 2 separate cooling circuits

Generously dimensioned electrical cabinet with maximized space for electrical options and customer specific requirements

Electronic expansion valve as standard, controlled by the SEC.blue

All chiller units can be transported in a 40 foot high cube container

ERP compliance

This product meets the efficiency values according to ErP 2018

and many more
Low Noise
The compressors, fans and pumps are the only noise sources with the Explorer units. Depending on operating conditions, the noise level of the chiller can be reduced by up to 10 dB.
To do this, the maximum fan speed is restricted during operation. Furthermore, cooling capacity that is comparable with the standard version can be attained with the low-noise version due to the matching of condensers and fans.
Figure below: Restriction of fan speed - To reduce noise emission, the fan speed is reduced by approx. 30% by the use of a star-delta circuit.
| | | |
| --- | --- | --- |
| Standard version | Low-noise version | |
Controller
Features
ErP
Efficiency challenging the future: ErP 2018 ready
The European Regulation EU 2016/2281, known as ErP 2018, sets the new SEPR parameters for assessing the energy efficiency of chillers. The entire Explorer range complies with the limits required by ErP 2018.
E.E.R.: Energy Efficiency Ratio
Chiller efficiency at a certain condition.
E.S.E.E.R.: European Seasonal Energy Efficiency Ratio
Seasonal efficiency of a chiller for comfort: ambient air from 25 to 35°C
S.E.P.R.: Seasonal Energy Performance Ratio
Evaluates the load and temperature variations during the year,
relative to the chiller's electricity consumption.
Parameters for high-temperature process cooling chillers (reg. EU 2016/2281):

Animation
STULZ Services