A brief history of precision air conditioning technology
STULZ and the road from computer room cooling to modern Data Center air conditioning: The history of precision air conditioning technology begins in the early 1970s with the air conditioning of countless computer rooms that are springing up. With the transition to the modern Data Center, the exceptionally diverse landscape of precision air conditioning solutions that we know and trust today gradually came into being – a process in which STULZ repeatedly took a pioneering role. The most important milestone was the CyberAir 1, which was the world's first precision air conditioning system to be fitted with EC fans as standard.
In the beginning: Precision air conditioning for computer rooms
When we introduced our first air conditioning system onto the market in 1965, precision air conditioning technology as we know it today was as yet inconceivable. The first STULZ system was also a comfort air conditioning system, which cooled rooms while also providing (unwanted) dehumidification. However, this system was not designed to air condition IT rooms. And it must be said that basically, there was as yet no market for solutions of this kind in the mid-1960s. This only happened when IBM launched its System/370 mainframe computer in 1970. Despite its high purchase price of $ 4.6 million, it evolved to become the most successful mainframe of its day, and revolutionized the use of IT. For the first time, computer centers were created on a large scale, although they were not yet known as Data Centers. One exception was the Deutsche Rechenzentrum in Darmstadt, founded in 1961 and which, even then, employed the German word for "Data Center" in its title.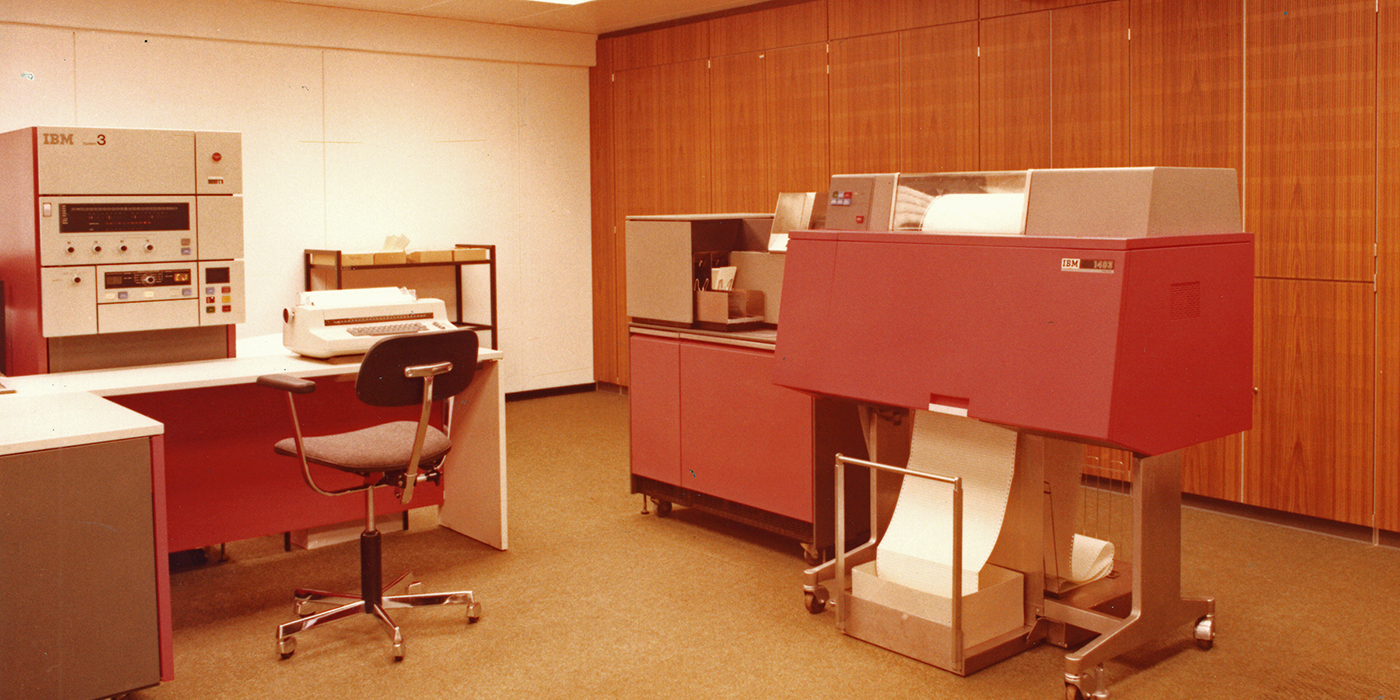 Admittedly, these early computer rooms were nothing like today's server rooms. Old photographs show that they were often offices where the mainframes stood alongside desks, typewriters, printers, removable disk drives, and other electrical devices. This may have had its own special charm; but it soon became a challenge to provide these combined office and equipment rooms with the air conditioning they needed, i.e. to satisfy equally the requirements of both workers and equipment. This then was the origin of precision air conditioning: in order to create a pleasant climate for the people in the room, while also ensuring that every unit was able to operate to full capacity, the installed air conditioning system had to be able to achieve a room temperature of 21°C (+/- 1°C) and an air humidity level of approximately 50 %. This was only possible with special systems that were developed specifically for computer rooms. These systems were then often housed in paneled and sound-protected cabinets in computer rooms, in order to prevent disturbance due to the noise of the equipment. It was only when office space and computer rooms were separated in the 1980s and 1990s, and Data Centers as we now know them were created, that solutions common today such as closed-circuit air conditioning systems with raised floors, or side coolers installed right next to the server racks, were developed.

STULZ: Specializing in precision air conditioning even back in 1971
Here at STULZ, we specialized in precision air conditioning way back in 1971, just one year after the presentation of the IBM System/370. So, from the very beginning we have traveled every step of the road to modern Data Center air conditioning, and helped to shape its development. At first, the company department responsible for this was known as "Computer System Air Conditioning". Initially, we installed modified comfort air conditioning systems. We fitted these systems with special attachments for an improved air supply, and thus tailored them to the requirements of the computer rooms of that era. However, we changed to developing special precision air conditioning systems in the mid-1970s. These systems were larger than the comfort air conditioning systems previously used, and in appearance were already similar to the precision air conditioning systems in use today. Moreover, like them they were electronically controlled, and some of them combined two independent cooling circuits in a single unit.
In the early 1980s, the next steps followed quickly: the trend towards greater environmental and climate protection placed energy use firmly in the foreground for the first time. The result was the STULZ Energy-Saving System with Indirect Free Cooling, which became an international success. In addition, the STULZ CompTrol was developed – a freely programmable microprocessor control system, which could monitor all the components of an air conditioning system as well as the conditions in the raised floor. Furthermore, the new control module enabled efficient partial load mode, and simplified the planning of redundant configurations. It took a while for the STULZ CompTrol to enjoy a breakthrough, but by the early 1990s, most precision air conditioning units installed in Germany were already equipped with this new control system. It is therefore to STULZ's credit that this central controller of precision air conditioning systems asserted itself so comprehensively.

"Nothing in the World Comes Close to it": The STULZ CyberAir 1 milestone
In other aspects, too, the systems in those days began more and more to resemble those of today, offering controllable fan drives, energy-saving coils and refrigerant heating, among other features. Rapid technical advances followed on seamlessly in the Nineties. The driving force behind this was the growing number of Data Centers and the expansion of the cell phone network, which brought about increasing demand for precision air conditioning systems for cell phone base stations and shelters. We reacted by continually improving our product range and got the competition playing catch-up with our launch of scroll compressors, among other products. From the mid-1990s, however, it became clear that we could only achieve yet further advances if we trod an entirely new path. Consequently, from around 1995 we spent enormous time and resources on basic research, and scrutinized all the components of conventional systems under the microscope. The aim was to develop the perfect precision air conditioning system, so to speak – a system that brought maximum benefit to both customers and the environment. For us, that meant a system with the lowest possible carbon footprint through the greatest possible energy efficiency – and all this without putting optimum availability at risk.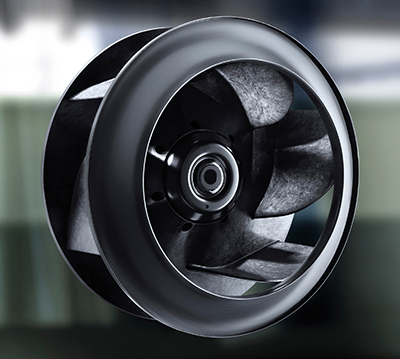 Thanks to years of tireless commitment by our engineers and international sales teams, we eventually achieved this goal: in 2003 we presented the CyberAir 1, the world's first precision air conditioning system to be fitted with high-efficiency EC fans as standard. "Nothing in the World Comes Close to it" – this slogan accompanied the market launch of our spectacular new arrival. And it was not only the EC fans that made the CyberAir 1 the most advanced air conditioning system of its time: we virtually reinvented the concept of Indirect Free Cooling for this system and equipped it with an innovative control system, which brought further potential savings within reach.

Direct Free Cooling as the next step in Data Center air conditioning
We had by no means reached the end of our journey. Even during the development of the CyberAir 1, we reflected on how it could be possible to manage without heat exchangers and compressors. This last point, in particular, got under our skin, even though it was clear that the only alternative was Direct Free Cooling using outside air – a concept that Data Center operators in the 2000s initially didn't want to hear about. But of all the components in Data Center air conditioning, the compressors consume the most energy. Therefore, we stuck to our guns and in 2009 we brought the first CyberAir air conditioning system with Direct Free Cooling and special filter box onto the market. We were aided in this by our many years of experience. For even back in the 1980s, we had developed the first systems with Direct Free Cooling and used them in smaller rooms. In the end, we had to admit that compressors could not be wholly dispensed with, as isolated, exceptionally hot days and, last but not least, factors such as air pollution, did not allow for the permanent use of Free Cooling.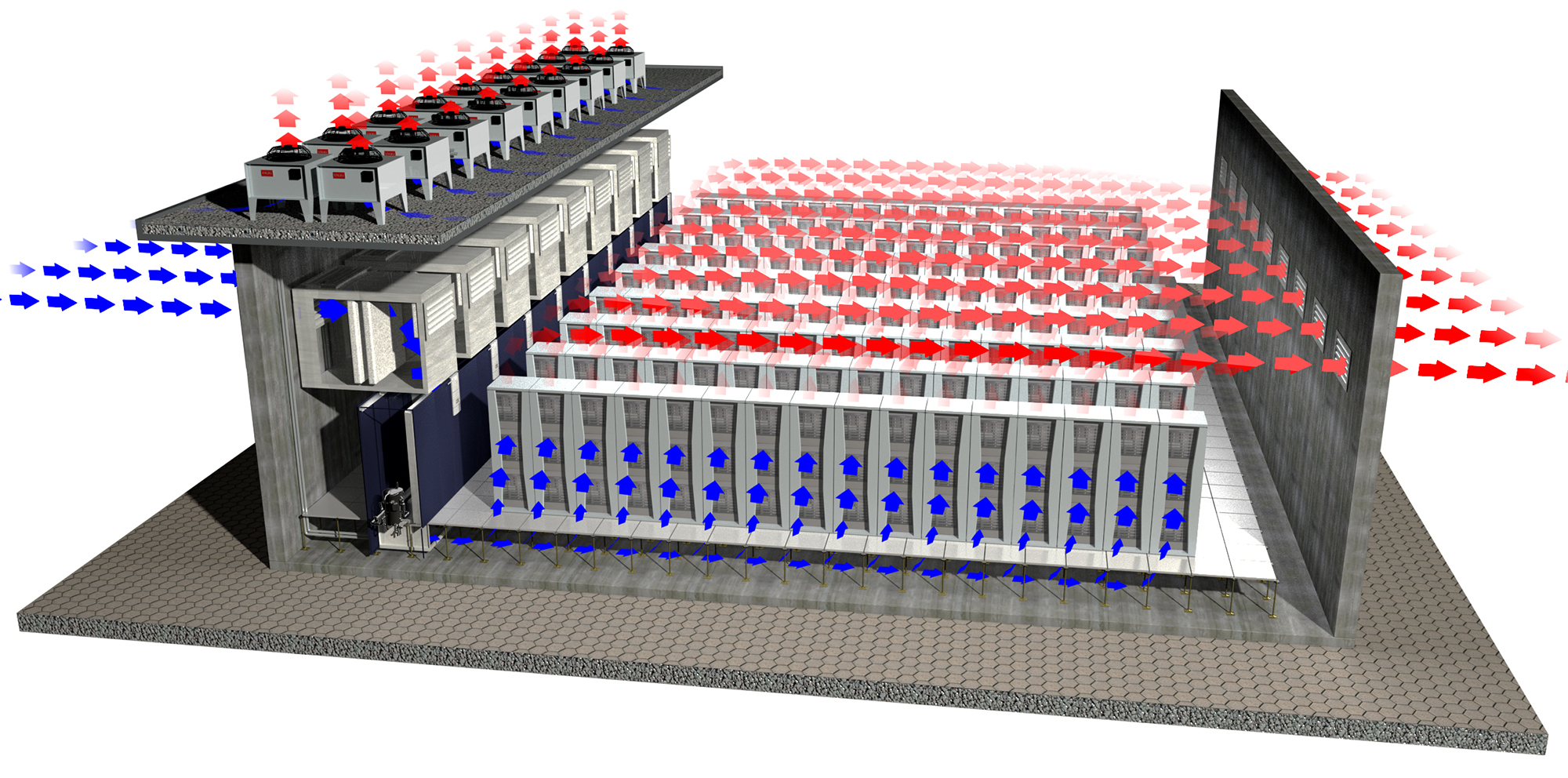 Despite this, today we can point to international Data Center air conditioning projects that function almost completely without compressor cooling. The breakthrough of this solution was also due in part to the easing of temperature requirements for Data Centers by the ASHRAE 2011, which reawakened interest in systems with Direct Free Cooling. What's more, we were in an ideal position to satisfy this renewed interest, because we already had suitable solutions with Direct Free Cooling for all classes of Data Center. In the last years, one of our product development teams has focused on chillers for Data Center cooling. The result is the CyberCool 2 – a precision air conditioning system that has no problem keeping up with the best chillers on the market, and does this by offering first-class efficiency figures. In addition, we have developed two new product families and, besides our classic closed-circuit air conditioning systems and side coolers, can now also offer air handling units and container cooling systems. These two Data Center air conditioning concepts are already well established in the U.S., and have started to enjoy ever growing demand in these parts, too.

Dispensing with refrigerant the most important issue of the future
In future, manufacturers of precision air conditioning systems will have to confront the issue of chemical refrigerants, in particular. The statutory regulations are becoming more and more stringent, prompting us to seek out alternative solutions. Here at STULZ, we are already working on a Data Center air conditioning system that is able to run without any refrigerant whatsoever. Customized solutions will be another burning topic in the future: even if Data Centers and server rooms around the world scarcely differ from one another, the requirements facing Data Center air conditioning are becoming increasingly individualized, and the trend is definitely heading away from standardized solutions. We at STULZ are well prepared for this development, as we can offer a great many different solutions, often modular precision air conditioning system with numerous configuration options. Our aspiration is to have the right solution to hand for every requirement, and we have consistently focused our research and development work on this goal.
Press Contact
Please choose your contact
For press information please contact:

Riba:BusinessTalk GmbH
Klostergut Besselich
56182 Urbar / Koblenz
Tel.:+49 (0)261-963 757-25
Fax: +49 (0)261-963 757-11
www.riba.eu

STULZ GmbH
Jan Pohlgeers
Holsteiner Chaussee 283
22457 Hamburg
Tel: +49 (0)40 55 85 - 0
pohlgeers(at)stulz.de
More contact options