Intro
CyberCool Indoor

The powerful chiller for indoor installation

Free cooling function for maximum efficiency: STULZ CyberCool Indoor provides powerful, highly efficient chilled water cooling with a minimal footprint. The unit's modern design and compact construction allows it to be installed inside the building easily, as well as integrated in existing systems.
CyberCool Indoor EC was developed for especially stringent project requirements.
CyberCool Indoor at a glance
Chiller for indoor installation

Available with and without EC compressor

Cooling capacity 20 - 100 kW

Three different systems

Integrated free cooling function for low total operating costs (GE/GES system)

Customized adaptations and special solutions for every application
Always the right choice: CyberCool Indoor with three cooling systems
In order to guarantee chilled water generation to suit requirements, CyberCool Indoor is available in two versions and three different systems. The systems allow for scalable planning and grow at the same pace as your future requirements.
Air-cooled (A/AS)

The compact standard solution

Water-cooled (G/GS)

Quiet and easy to integrate

Water-cooled with integrated free cooling function (GE/GES)

Maximum efficiency
Scope I: data center

Scope II: medical technology

Scope III: process- and industrial cooling applications
Benefits of the system
Redundancy means operational availability

Rapid adaptation to fluctuating loads

Maximum efficiency in partial load mode

Integrated compressor soft-start and continuous operation without compressor on/off cycles result in a very long life-time
Further benefits
Quiet condensers or dry coolers minimize noise emission outdoors

No glycol in hygienically sensitive areas

Indirect free cooling means year-round energy efficiency

High chilled water temperatures of up to +18 °C (outlet) and +25 °C (inlet)

Dual power supply (optional) provides a high level of reliability

Customized solutions for every application

Simple to integrate in existing chilled water networks

Broad operating range (chilled water outlet between +4 °C and +18 °C)
Benefits
Smart solutions – all from a single source
Downloads
Downloads
STULZ CyberCool Indoor Brochure 1807 EN


CyberCool Indoor
Free cooling function for maximum efficiency - the powerful chiller for indoor installation


File: STULZ_CyberCool_Indoor_brochure_1807_EN.pdf

Type: Adobe PDF

Size: 2,40 MB

Language: English

Date: 2018-07-02

download
CLIMATE.CUSTOMIZED. You have the challenge, we have the solution

ErP
Efficiency challenging the future: ErP 2018 ready
The European Regulation 5539/16. known as ErP 2018, sets the new SEPR parameters for assessing the energy efficiency of chillers. The CyberCool Indoor complies with the limits required by ErP 2018.
E.E.R.: Energy Efficiency Ratio
Chiller efficiency at a certain condition.
E.S.E.E.R.: European Seasonal Energy Efficiency Ratio
Seasonal efficiency of a chiller for comfort: ambient air from 25 to 35°C
S.E.P.R.: Seasonal Energy Performance Ratio
Evaluates the load and temperature variations during the year,
relative to the chiller's electricity consumption.
Parameters for high-temperature process cooling chillers (reg. 5539/16):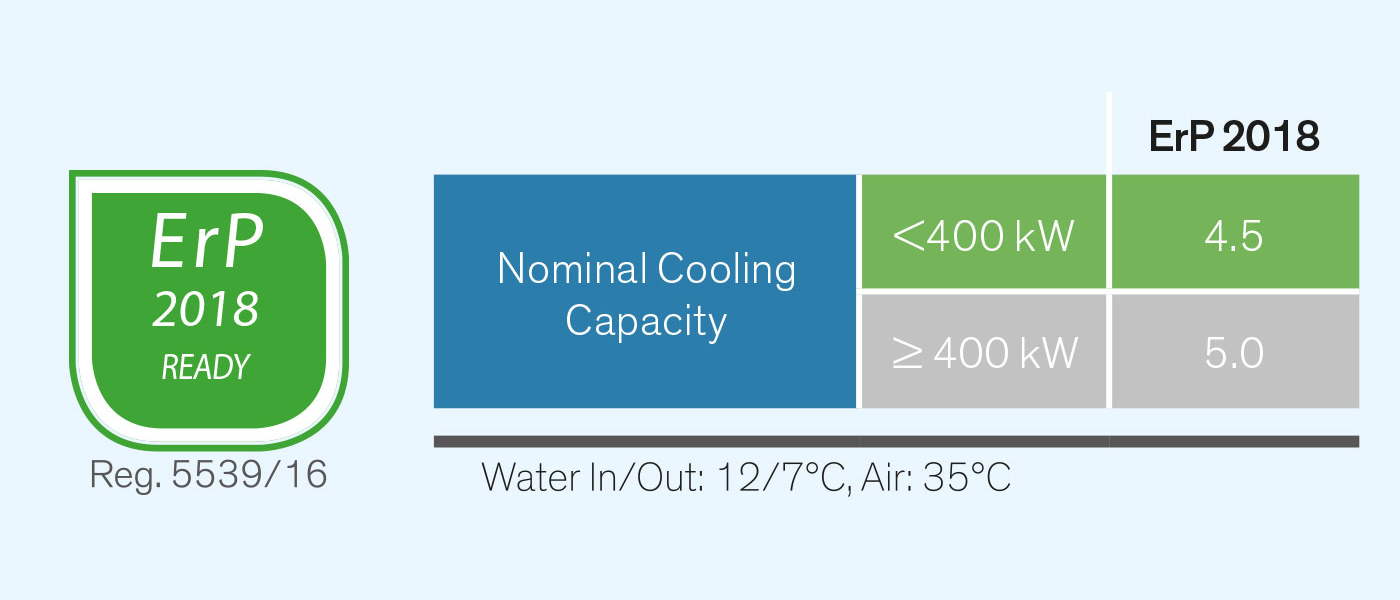 Animation
STULZ Services
Contact
Contact us
For sales and support inquiries, please make a selection below to find your local contact.
Holsteiner Chaussee 283
Hamburg, 22457
Phone:

+49 40 5585-0


Fax:

+49 40 5585-352

Stulz Territories:

Lower Saxony

,

Baden-Württemberg

,

Bavaria

,

Berlin

,

Brandenburg

,

Bremen

,

Hamburg

,

Hesse

,

Mecklenburg-Western Pomerania

,

North Rhine-Westphalia

,

Rhineland-Palatinate

,

Saarland

,

Saxony

,

Saxony-Anhalt

,

Schleswig-Holstein

,

Thuringia