Intro
CyberCool 2

The high-end chiller

Maximum energy efficiency and optimum reliability for complex, sophisticated chiller solutions without compromise – this is what our CyberCool 2 chillers stand for. And for a completely novel overall concept, whereby all the components of the CyberCool 2 are perfectly harmonized to ensure both high energy efficiency and low noise emissions.
Characteristics at a glance
| | | | |
| --- | --- | --- | --- |
| | CC2mini | CC2 Scroll | CC2 Screw |
| Cooling capacity (kW) | 43 - 130 | from 130 | 400 - 1,400 |
| Refrigerant | R410a | R410a | R134a/R1234ze |
| Compressor | Scroll | Scroll | Screw * |
| Cooling circuits | 1-2 | 2 | 2 |
| Free Cooling | optional | optional | optional |
| Low Noise | optional | optional | optional |
| Product information | CyberCool 2mini | CyberCool 2 Scroll | CyberCool 2 Screw |

* All screw compressors in combination with tube bundle evaporators with dry expansion (DX)
Available versions for this product:
Energy efficiency
CyberCool 2 - Energy efficiency at a glance
Solutions & Applications
Solutions for CyberCool 2 units
For medium-sized and large Data Centers, ICT sector, industry, medical, mission critical applications

Indirect Free Cooling

Outdoor installation
Applications for the CyberCool 2 range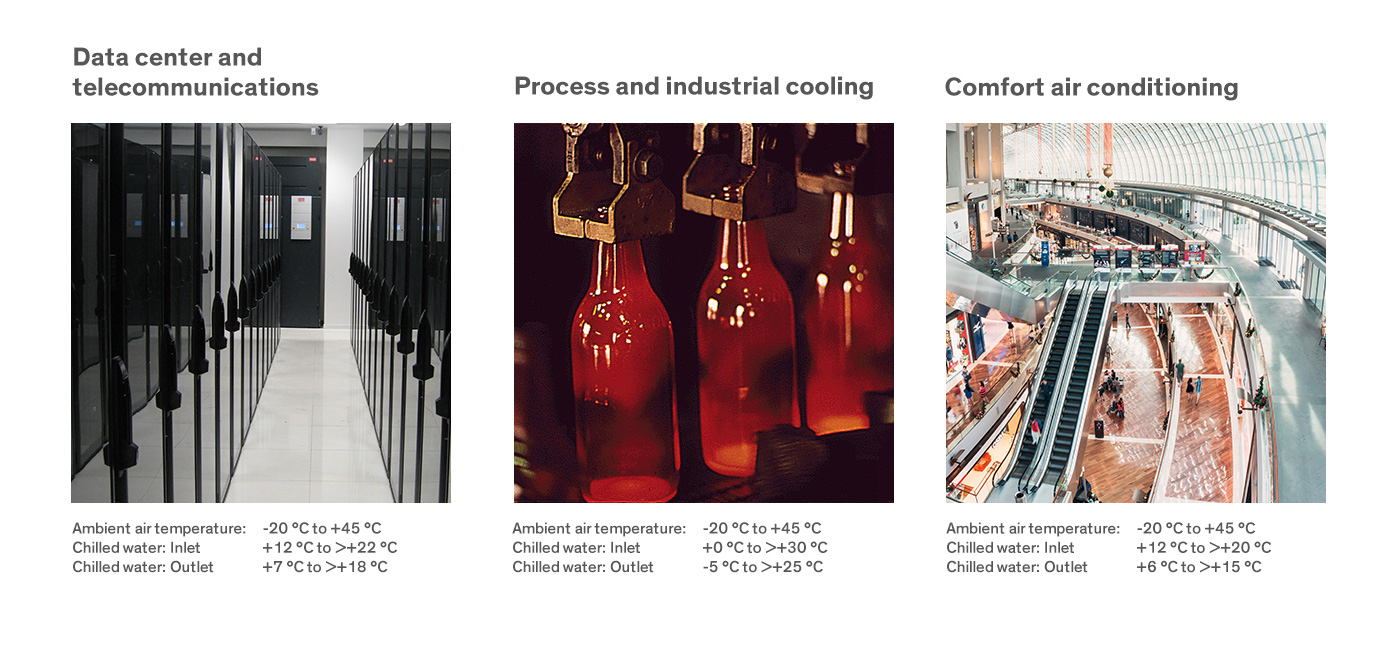 CLIMATE.CUSTOMIZED. You have the challenge, we have the solution

Benefits
Benefits
Increase of efficiency and reduction of operating costs thanks to "Mix Mode Boost"

Flexible adaption to every project

Cooling system with the lowest total costs of ownership (TCO leader)

Made and Engineered in Germany

Ongoing quality management during production

ERP compliance

This product meets the efficiency values according to ErP 2018
Efficiency challenging the future: ErP 2018 ready
The European Regulation 5539/16. known as ErP 2018, sets the new SEPR parameters for assessing the energy efficiency of chillers. The entire CyberCool 2 range complies with the limits required by ErP 2018.
E.E.R.: Energy Efficiency Ratio
Chiller efficiency at a certain condition.
E.S.E.E.R.: European Seasonal Energy Efficiency Ratio
Seasonal efficiency of a chiller for comfort: ambient air from 25 to 35°C
S.E.P.R.: Seasonal Energy Performance Ratio
Evaluates the load and temperature variations during the year,
relative to the chiller's electricity consumption.
Parameters for high-temperature process cooling chillers (reg. 5539/16):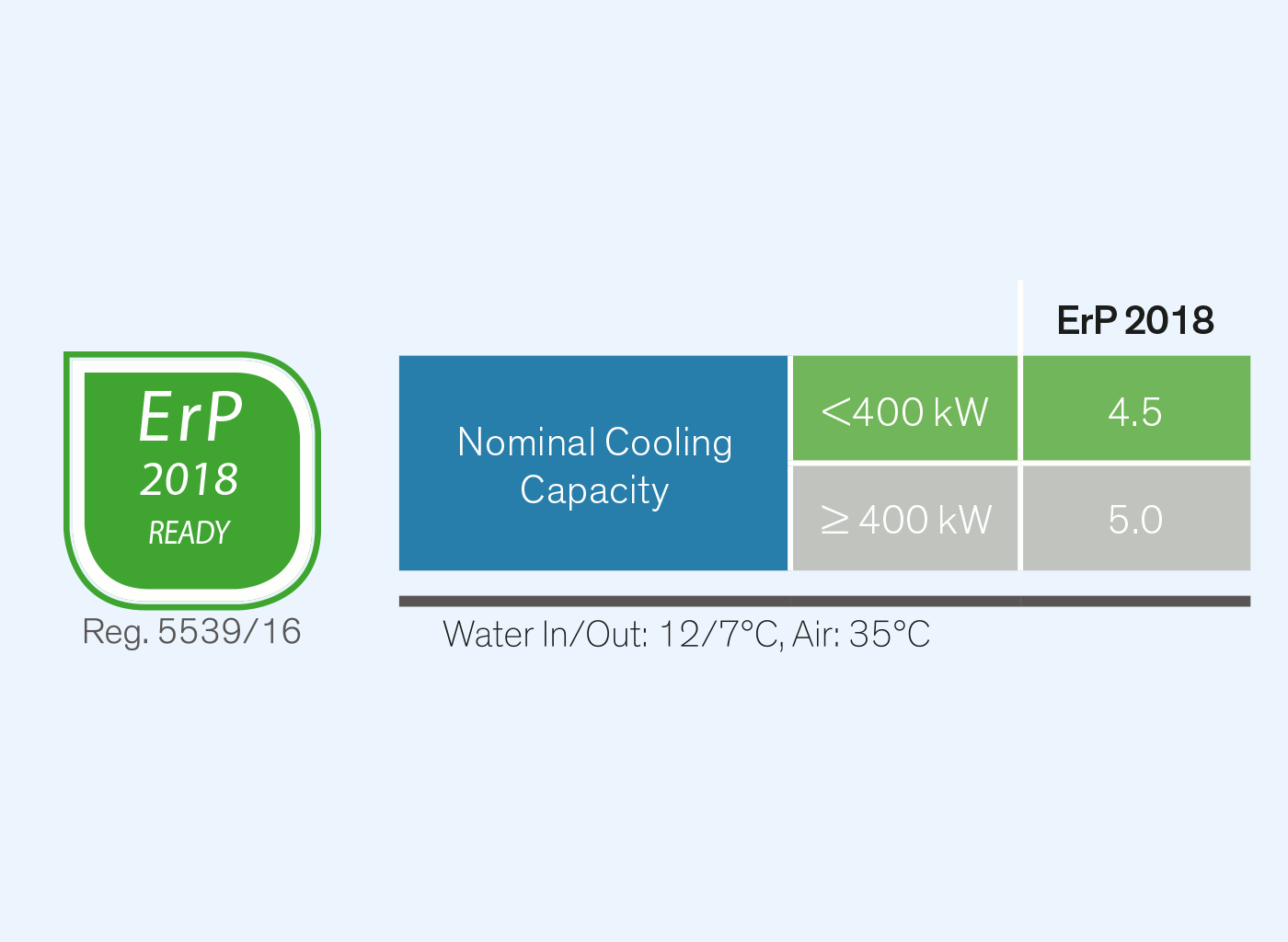 Articles and project examples
Downloads
Downloads
Further information you will find in the brochure for download:
4 application examples
What happens after a power failure
Nomenclature
Technical Data
STULZ CyberCool 2 Broschure 1804 EN


The quietest, most efficient and most reliable chiller in its class.
Made as required. Made in Germany.


File: STULZ_CyberCool_2_broschure_1804_EN.pdf

Type: Adobe PDF

Size: 4,88 MB

Language: English

Date: 2018-05-16

download
Animation
STULZ Services
Contact
Contact us
For sales and support inquiries, please make a selection below to find your local contact.
Holsteiner Chaussee 283
Hamburg, 22457
Phone:

+49 40 5585-0


Fax:

+49 40 5585-352

Stulz Territories:

Lower Saxony

,

Baden-Württemberg

,

Bavaria

,

Berlin

,

Brandenburg

,

Bremen

,

Hamburg

,

Hesse

,

Mecklenburg-Western Pomerania

,

North Rhine-Westphalia

,

Rhineland-Palatinate

,

Saarland

,

Saxony

,

Saxony-Anhalt

,

Schleswig-Holstein

,

Thuringia