Intro
CyberAir 3PRO CW

Innovative chilled water cooling for data centers. Made in Germany.

The CyberAir 3PRO CW controls the conditions in the data center with the utmost precision, reliability and energy efficiency. Because STULZ technology leads the field, it can exploit potential savings to the full while still ensuring maximum reliability.
Solutions for CyberAir 3PRO CW
Room cooling

Medium-sized to large data centers

High Density

Direct Free Cooling

Indirect Free Cooling

Technology rooms

IT Industry

Hospitals
Benefits
Benefits
Maximum potential savings with Indirect Dynamic or Direct Free Cooling

Maximum cooling capacity with a minimal footprint

Highly efficient air conduction (Airflow Efficiency Ratio)

Optimized for operating conditions based on the ASHRAE recommendation

Superior EER values due to maximum size heat exchangers and filter surfaces

Minimal pressure drops thanks to the unit's optimum design

EC fans reduce power consumption

Compact design facilitates transport and installation

Control based on the supply air, return air, room air and server inlet temperature

CW-Standby-Management, Differential Pressure Control and Filter-Control-Management

Individual unit test at the STULZ Test Center
Vorteile der ABR-Baureihe
Hohe Kühlleistung pro Stellfläche

Minimale Ventilator-Leistungsaufnahme dank der reduzierten geräteinternen Druckverluste

Optimierter Energy Efficiency Ratio (EER)

Optimierte AER-Werte (Airflow Efficiency Ratio) und damit höchste Effizienz bei der Luftführung

Erhöhung der Freikühlzeiten beim Kaltwassererzeuger durch die höheren Luft- und Wassertemperaturen

Optimierung der Lufttemperaturen gemäß ASHRAE-Empfehlungen

Verringerter Wasservolumenstrom

Somit geringere Gesamtleistungsaufnahme des Systems und geringere Investitionskosten, da kleinere hydraulische Komponenten eingesetzt werden können
ASR Front/Back/Down

ASR Front

ASH Down

ASH Displacement

ASD Downflow

ASU Upflow
Heat exchangers with optimized Energy Efficiency Ratio (EER)
The new CyberAir 3PRO CW has enabled EER values to be considerably increased even further. This was achieved by modifying the geometry of the heat exchangers and optimizing the unit's design to ensure minimal pressure drops, greatly increasing efficiency.
Advantages of the optimized heat transfer at a glance
• Optimized cooling unit geometry
• Reduced water and air-side pressure drops
• Several versions for maximum flexibility
Optimum supply air conditions as per ASHRAE recommendation
In order to cool data centers as efficiently as possible without compromising on reliability in return, ASHRAE has published a recommendation for the air temperature at the server inlet. For decades, STULZ has been developing air conditioning units for mission-critical applications, in which malfunctions could have severe consequences. However, in order to keep a constant eye on energy efficiency as well, the supply air conditions of the CyberAir 3PRO CW have been optimized to achieve the range recommended by ASHRAE.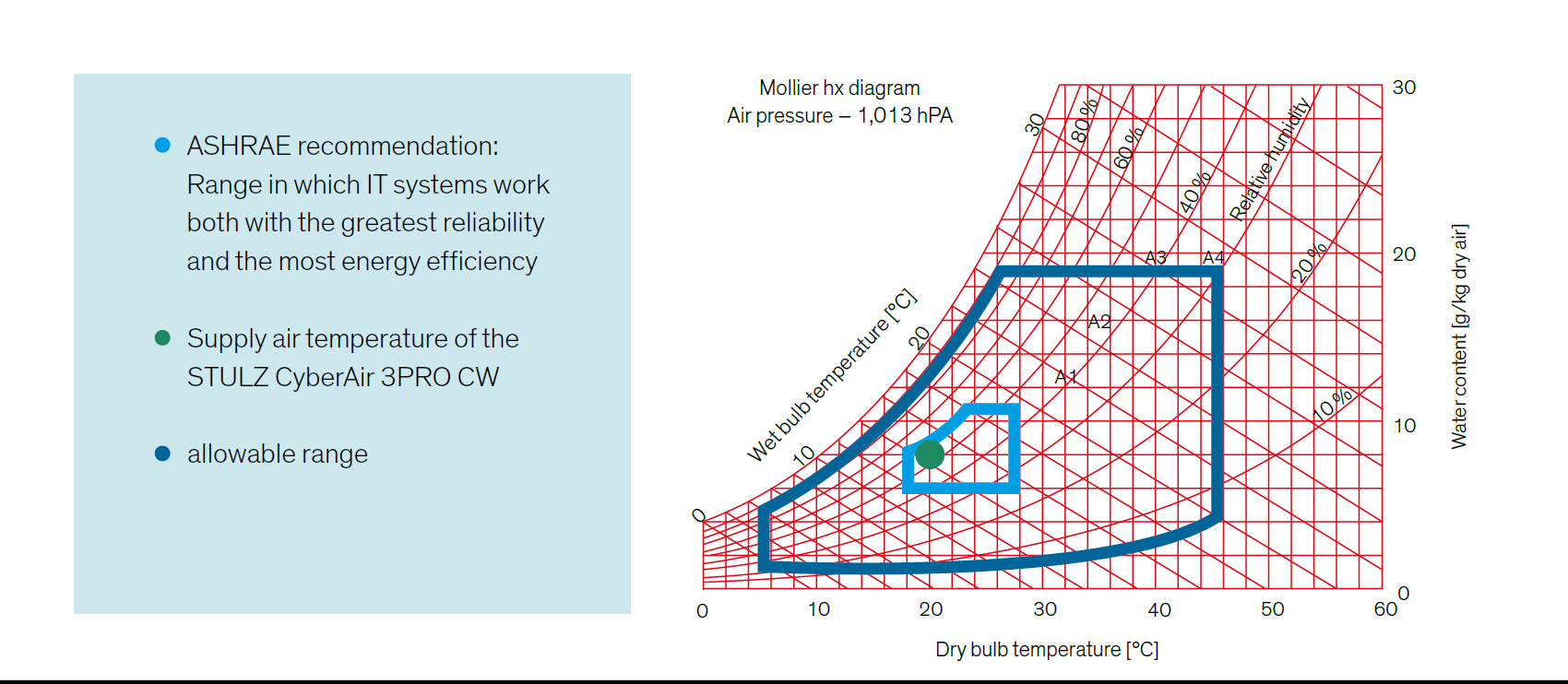 Controller
Downloads
STULZ CyberAir 3PRO CW Brochure 1804 EN


Innovative chilled water cooling for data centers. Made in Germany.


File: STULZ_CyberAir_3PRO_CW_brochure_1804_EN.pdf

Type: Adobe PDF

Size: 3,50 MB

Language: English

Date: 2018-07-02

download
STULZ Services
Contact
Contact us
For sales and support inquiries, please make a selection below to find your local contact.
Holsteiner Chaussee 283
Hamburg, 22457
Phone:

+49 40 5585-0


Fax:

+49 40 5585-352

Stulz Territories:

Lower Saxony

,

Baden-Württemberg

,

Bavaria

,

Berlin

,

Brandenburg

,

Bremen

,

Hamburg

,

Hesse

,

Mecklenburg-Western Pomerania

,

North Rhine-Westphalia

,

Rhineland-Palatinate

,

Saarland

,

Saxony

,

Saxony-Anhalt

,

Schleswig-Holstein

,

Thuringia