Cooling as a Service
COOLaaS™
Cooling as a Service from STULZ and Burland Energy
COOLaaS™ is a complete solution in which the required cooling capacity is provided using the as-a-service model (XaaS). This means that operators only pay for the output of the systems and services, because all the necessary equipment is purchased by Burland Energy.
This switch from passive ownership to efficient use protects your budget from high outgoings and therefore creates capital for value-added investments. As our customer, you are not responsible at any time for the cooling systems or service, as you are not the owner. What's more, there are no fixed monthly payments with this model as there are with leasing. In addition, all charges go towards ongoing operating expenses, in accordance with the new IFRS guideline.
COOLaaS™ monthly billing is based on a fixed rate per kW/h, which already incorporates the cost of products, installation, maintenance, service and spare parts.

"COOLaaS™" works like this
You tell us your short and medium-term cooling needs
We help you to plan and select your cooling strategy
You receive a binding quotation for service from Burland Energy
We deliver all necessary equipment to your premises, set it up and ensure the required temperature and humidity ranges at all times (up to the maximum agreed cooling needs)
The cooling equipment is serviced regularly by our qualified service technicians
Your COOLaaS™ invoices will be settled with Burland Energy based on the cooling load generated per month in KW/h

FACILITATE™ or Electrical Infrastructure as a service delivers solutions for mission-critical applications on a pay-per-use basis. Worldwide, the cost of electrical infrastructure is estimated as $ 30 billion a year, with growth of 10%. According to the IDC (International Data Corporation), companies use 70% of their IT budget simply to keep the system running.
Savings in these costs (at least in part) could therefore be diverted towards more intelligent investments to customers' benefit: better, faster, cheaper and more reliable services and applications.
For example, buying the output of capital goods, instead of the goods themselves. Redirecting the budget from capital expenditure to operating costs turns the customer into an efficient user instead of a passive owner.
FACILITATE ™ covers all mission-critical areas of the electrical infrastructure: back-up power, power conditioning, temperature control, switching, and transmission.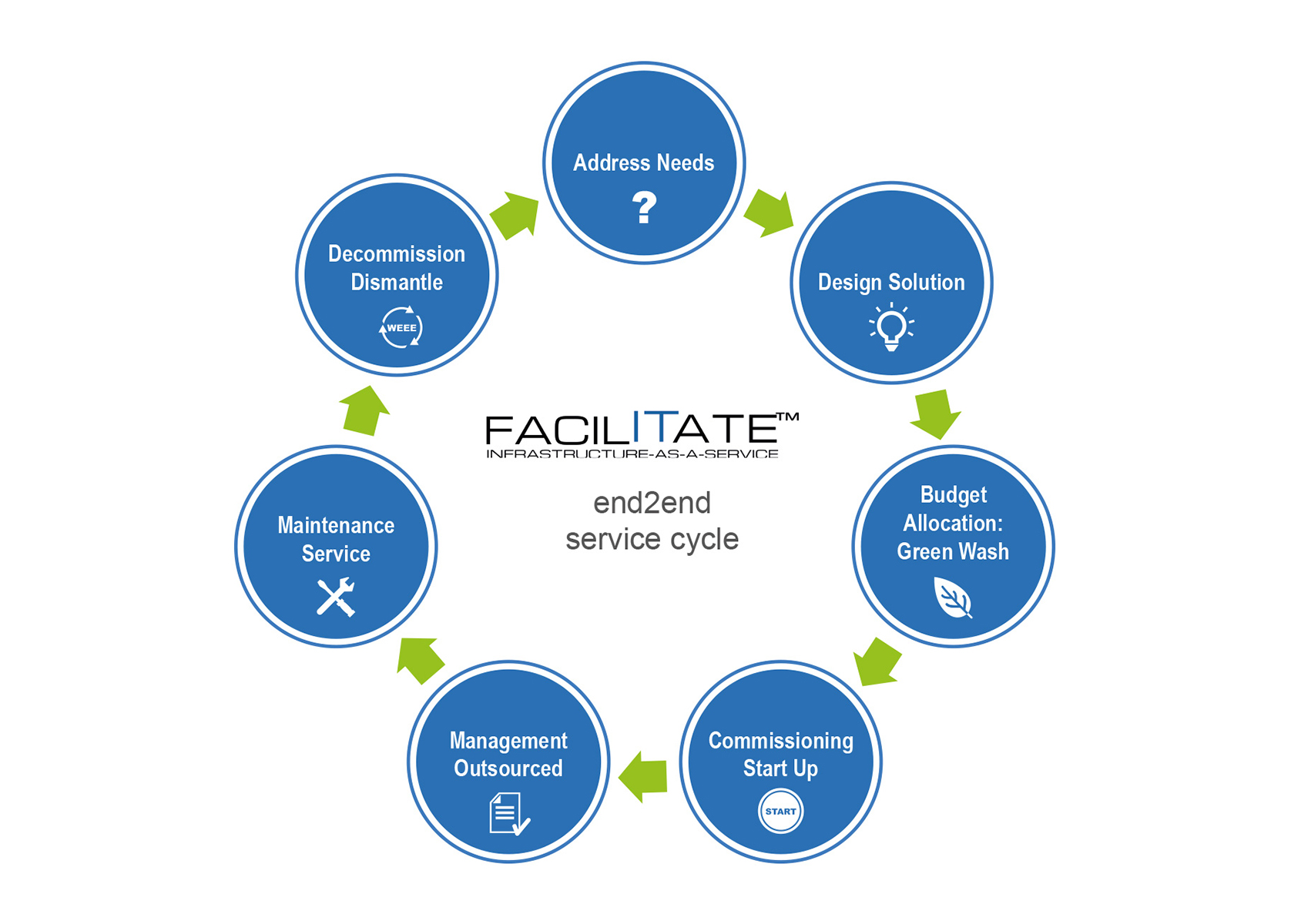 Any questions?
Questions about COOLaaS™? Would you like an individual quotation? Please use the contact form below for a personal discussion.
Contact us
For sales and support inquiries, please make a selection below to find your local contact.
Holsteiner Chaussee 283
Hamburg, 22457
Phone:

+49 40 5585-0


Fax:

+49 40 5585-352

Stulz Territories:

Lower Saxony

,

Baden-Württemberg

,

Bavaria

,

Berlin

,

Brandenburg

,

Bremen

,

Hamburg

,

Hesse

,

Mecklenburg-Western Pomerania

,

North Rhine-Westphalia

,

Rhineland-Palatinate

,

Saarland

,

Saxony

,

Saxony-Anhalt

,

Schleswig-Holstein

,

Thuringia